Ralph's on the Park News
Ralph's on the Park serves 'customized' king cakes with fillings on the side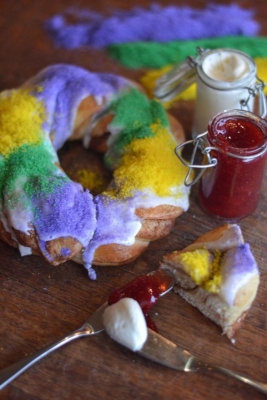 King cake lovers typically fall into one of two camps: those who believe the pastry is merely a cream cheese and fruit-filling delivery device and those who think king cake should be like Rex's classic beads: purple, green and gold with little to no other adornment.

It's hard to satisfy both, but Ralph's on the Park is out to try with its "customized" king cakes.

The restaurant is serving pastry chef Brett Gauthier's versions with housemade strawberry preserves and cream-cheese icing on the side for guests to add or avoid at their pleasure. A restaurant spokeswoman described the cakes as brioche-style, baked with a cinnamon spread and topped with a white chocolate glaze and Carnival colored sugars.

Each one is enough to serve two people.

On Feb. 8, the restaurant will give out free king cake samples, one of which will come with a Mignon Faget silver baby.

***

Ralph's on the Park

900 City Park Ave., 504.488.1000

To view the full article, follow the link provided.
www.nola.com/dining/index.ssf/2013/01/ralphs_on_park_serves_customiz.html